5 Ways To Generate Instagram Content Ideas Like a Machine
Are you managing an Instagram page? And running out of Instagram content ideas?
Well, I used to run out of content ideas after posting every second post. But now I don't actually need to be out of content ideas for Instagram posts.
Why do I need content ideas for Instagram?
Instagram is the new marketing hub for brands in the digital world. Whatever brands you can imagine, all you will find on Instagram. Also, you might have seen various sponsored stories, posts on Instagram. Why? it's because Instagram has the most engaging audience ever.
And if you have an Instagram business page, Instagram photography page, or Instagram poetry page, no matter what type of page it is, the content is a must to engage your audience.
If you know at least something about the Instagram algorithm then you must know that Instagram makes the accounts down which don't produce content or produce content rarely.
So it's harmful if one doesn't have content ideas for the Instagram page and doesn't produce content.
According to social insider, Profiles with over 100K followers have posted an average of 241 posts this year, while accounts with under 5K followers only published around 50 posts.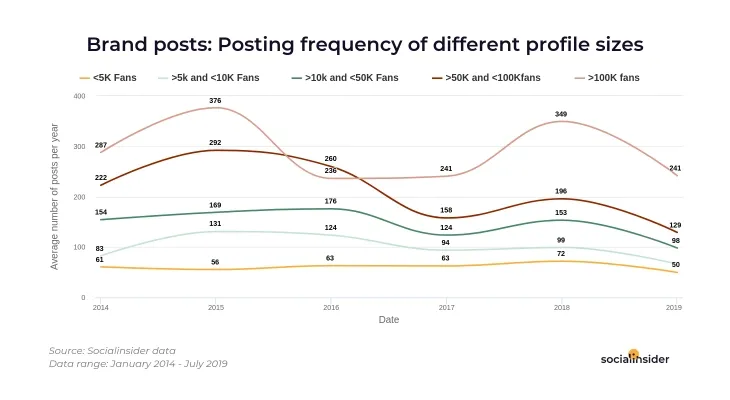 Image by social insider
The bigger the brand, the more it posts. In one line, more content makes them more engaging.
But generating high-quality, engaging content ideas is not a joke. What to do about it? For that, you need high-quality Instagram content ideas.
I have the best ways to generate high-quality Instagram ideas, which I use personally to manage my more than 3 Instagram and Facebook pages.
Let me make you generate more content ideas within a minute.
5 ways to generate Instagram content ideas like a machine
Let's take a brand for example purpose. Suppose I have a brand called ABC glasses. This brand sells sunglasses, spectacles, and anything related to that. Okay. Now here you go.
1. Already available content on blogs and videos
For your brand, you must have the content ideas to produce the content. For that looking for the already available content is the better way. See the blogs, videos, reviews people and other websites are doing for the related products.
For our brand ABC glasses, I will look for blogs about the sunglasses. From that, I will get to know various content ideas for the sunglasses.
For example, a blog based on the sunglasses topic has written about "Which sunglasses are suitable for which skin color", "which frames are suitable for which face shape" etc.
Also, check the comments on the blogs, so you will get to know what content is popular or not. Also, the videos are great ways to get content ideas for Instagram.
Just take the keyword, in our case it is glasses, then search for it on youtube and just see the titles of the videos. Simple.
Note down all of the content ideas which you find interesting and then make the content ideas list. Frame that content into the images or infographics, with matching color palettes and produce the content.
This will really make you have great Instagram content ideas every day.
2. Take comments seriously
Another effective way of producing content ideas for Instagram is to search in the comments. Analyze the responses of the people who follow you.
See which queries people ask, whether it is on your Twitter, Instagram, or youtube. Collect the topics
directly from the comments.
So for instance, our brand ABC glasses has a Twitter account and there is a talk about the brand in the comments like "they should specify the sizes of the frames instead of letters relating to specific frame size" or "what are your new launched products?" etc.
so when they ask about the sizes you can create a carousel post on how the different size ranges of frames have different letters or what are new plans coming in the future etc.
Is that difficult? It is definitely better than thinking too much about the new content ideas for Instagram. And it will be better you note down that Instagram content ideas on an excel sheet.
Then you have the bulk of the content ideas for Instagram.
3. Look at your competitors
No! it's not about copying.
If you look for the ideas then you will really get something from your competitor. Whether you hate or underestimate competitor's brands, you must have a look at their content.
What is actually driving traffic to them? you can make the same content in the images and infographics form. So head over to the blog of the competitor, see which topic is popular. You can do that with the ubersuggest tool.
1. Just type the competitor's website and start the SEO analysis.
2. You can see on which articles most of the visitors are engaging.
3. Take that one and convert it into infographics, or make a better version of it from your side.
That's it. If you use scientific studies or surveys then give the credits to them. Doing your own surveys, and studies are the best way.
Well, I was just talking about generating topics for your Instagram. You got that, isn't it?
4. Headlines in magazine Magazines
Magazines are great to get content ideas for blogs, Instagram than any other source. The magazines contain perfect and catchy headlines ever. You must ensure that you have at least 2 to 3 magazines, coming every week to your home, related to your brand.
Ya, this keeps you updated on the new trends and also generates thousands of Instagram content ideas for you. Note down all the catchy headlines that you haven't worked on yet.
And you will get a whole week's summary of what you have to post each day. The topics that you will get in the magazines, will be really helpful to generate great content ideas. And also producing regular content is easy with these content ideas from magazines.
So what are new magazines, you have this week for great content ideas? let me know in the comments.
5. Instagram ideas generator tool
For a better idea go to the various ideas generator tools, type a keyword and do the work on them. Keyword ideas generator, title generator, content generator, etc. are always been helpful in generating the content ideas fast.
Here are some useful tools that will make you generate the content ideas for Instagram.
My personal favorite is the ubersuggest content idea generator. I get a lot of new content and title ideas from that along with the competition and traffic on that. Here I am not doing any promotion, I am telling you everything on my personal experience.
These all are the best keyword generators and you can get the content ideas for Instagram within a minute.
Pinterest is a great tool I use when I run of Instagram ideas.
Go to Pinterest, type in your keywords. For instance, I type sunglasses. Then you will several recommendations below the search bar in small clouds. suppose I see sunglasses for girls, best sunglasses, blue-colored sunglasses, etc.
Take that words and create perfect content over them. Pinterest is the better tool if you are focusing particularly on Instagram only. I will always prefer Pinterest for Instagram over the ubbersuggest when it comes to Instagram content ideas.
Hubspot title generator gives you catchy headlines for the same topic. Ahrefs keyword generator also makes you find different topics related according to the keyword.
Conclusion:
In fact, there are many more sources from which you can get the content ideas. But overall these 5 ways make you generate content ideas like a machine. So get to work and note down all the ideas you get from these sources and generate more and more valuable content on Instagram for your audience and Instagram page.
Will See you growing from today! Ta-da!